Why are car thefts still on the rise?
March 31, 2020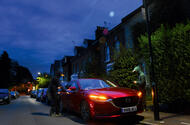 One vehicle is stolen every four minutes on average in the UK
Despite sophisticated anti-theft tech, vehicle thefts have risen by more than 50% in the past six years and they're still increasing. We explore
One night in January, while Helen Chambers and her husband were asleep, a thief broke into the couple's home in Romford, Essex, and stole the key to their 2012-reg Audi A6 2.0 TDI parked on the road outside. The first they knew of the theft was when they looked out of their bedroom window to be greeted by the sight of an empty parking space.
"It was done so quickly and discreetly that I think the thief must have been staking out our house," Chambers told me when I phoned her after seeing her report of the theft and appeal for information on Stolen Cars UK, a public Facebook group.
The police were quick to respond and viewed the video footage that had been captured on the couple's CCTV camera. Unfortunately, the thief's face was barely visible in the poor light and he was wearing gloves so had left no fingerprints. It's a problem that police investigating car crime encounter all too frequently. Recently, Suffolk police admitted it had failed to solve 95% of car crime in the past three years, mainly because of what it described as "limited forensic opportunities".
Reflecting on the loss of the family's Audi, Helen said, despairingly: "You work hard, only to have your dream car stolen."
On the same day, around 350 other vehicle owners discovered exactly how she felt. That's the number of cars that police believe have been stolen each day so far this year. It compares with 330 stolen each day in 2019, or 120,000 over the year, and is further evidence of the apparently unstoppable rise in car crime that has seen vehicle thefts increase by over 50% in the past six years. According to the Office for National Statistics, just 40% of stolen vehicles are recovered. Most of these are damaged and 20% written off. The UK's car crime capital is Manchester, where there are almost 51 crimes per 1000 vehicles, a figure that includes theft from, as well as theft of, a motor vehicle.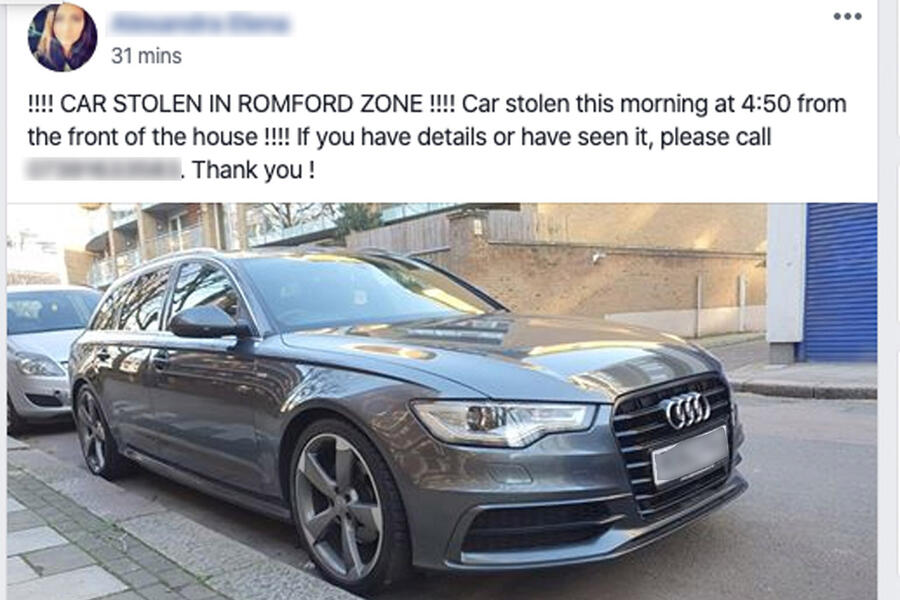 It wasn't supposed to be like this. New technologies such as keyless entry and ignition systems were meant to make cars safe from thieves and render mechanical locking devices, such as the traditional Krooklok, redundant. What their designers didn't take account of, however, was car thieves' determination to overcome any new obstacle in their path and the changing nature of car crime, which has evolved from the casual thieving and joy riding of the 1990s to the organised and targeted activity it is today.
"There's a significant amount of organised criminal activity, with cars being stolen to order," says Clive Wain, head of police liaison at Tracker, a vehicle telematics and locater company. "Cars are stolen for one of four reasons: for export, often to Eastern Europe; to order, for their identity to be changed and the vehicle sold on within the UK; for parts, which is a growing problem and where the vehicle is stripped down in a so-called 'chop shop'; and to be used in further crimes."
Neil Thomas, director of investigative services at AX Innovation, a fleet management company, says car crime is like an industry. "It's run on the same scale," he says. "High-value models are being targeted by criminals who need specific cars to sell or to strip for sale or cloning. They'll place their order with an associate using an encryption messaging service such as WhatsApp. Their messages will include details of a vehicle's location and instructions on how to check for and remove tracking devices."
Increasingly, criminals are turning to county lines techniques borrowed from the drug world to steal cars. So-called 'clean skins', young people with no criminal record, are recruited to steal cars from outside the criminal's immediate area in return for cash or food for their family.
Thomas says that once stolen, many cars – a lot of them premium models including Audis, BMWs, Mercedes and Range Rovers but also hot hatches – are driven to a location and left for up to four days to establish whether a tracking device is fitted. When the all-clear is sounded, the car will be fitted with duplicate plates that identify it as an identical but legitimate vehicle so as not to trigger any ANPR cameras, started using a reprogrammed key if necessary and driven away. It might then be sold to a black market buyer, who is unlikely to pay much more than £2000 for a stolen Range Rover, for example. A Ford Fiesta might be sold for just £200.
Having bought the stolen car, a criminal may attempt to sell it to an unsuspecting member of the public, advertising it at less than its market value to attract interest. On arrival at what is likely to be a rented address, the buyer is told there is finance to settle, a story intended to reassure them that the seller and the car are legitimate.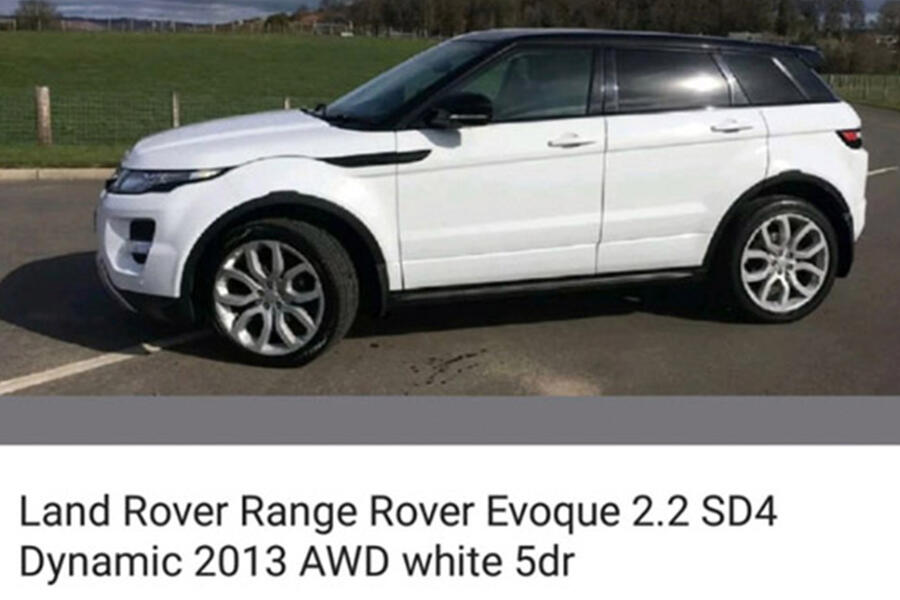 Thomas tells how a 2013-reg Range Rover Evoque 2.2 SD4 Dynamic was sold in this way. It had been stolen in Oxford, cloned in Birmingham and given a new identity, before being advertised for £8150. The criminal gave the buyer a settlement letter purporting to be from the finance company and quoting an account number and sort code. In fact, the finance company was a national charity with no connection to the car.
The buyer settled the finance, paid the criminal a balance of £5000 in cash and in return was given the vehicle's key and a logbook. The key was a replacement that had been reprogrammed and the logbook fake.
However, disposing of an entire car in this way is a risky affair for the criminal. That's why breaking vehicles for their parts, either to sell to other criminals for cloning stolen cars or to unsuspecting members of the public, is an increasingly popular alternative. High-value cars including Bentleys and Lamborghinis, but also Range Rovers and Jaguars, are often disposed of in this way.
Many are broken down and stripped in chop shops. In the case of vehicles with tracking devices fitted to them, depending on the age of the car, the subscription to the service may have lapsed, allowing the vehicle to go unlocated. Thomas says that police are increasingly targeting chop shops. One recent raid by West Midlands Police yielded three stolen Mercedes E-Classes. "It's a more effective approach than trying to solve every car theft because you get straight to the criminals who are ordering the thefts and disposing of the cars," he says.
Other forces are reporting similar successes. In February, Essex Police raided 20 properties as part of an investigation into a gang suspected of having stolen up to 90 cars worth a total of £4 million since 2018, including Range Rovers and sports cars. They made 15 arrests and recovered 25 stolen vehicles. As part of the raids, the police targeted criminals suspected of coding replacement keys, enabling the vehicles to be cloned and sold to unsuspecting buyers.
The police haul included the equipment that the criminals used to overcome the keyless entry systems fitted to the cars they had stolen, a technique called a relay attack. It works by one criminal holding a device up against the door of the car, amplifying the signal it broadcasts around the perimeter of the vehicle. Another criminal stands near the owner's home with a device that picks up the signal the key emits and relays it to his accomplice, who can then open the car's door and start the engine.
This vulnerability of keyless systems is well known and was demonstrated in a number of security tests by our sibling title What Car?. In 2019, it tested seven popular cars fitted with the systems and found that two of the cars (an Audi TT RS and a DS 3 Crossback) could be accessed and driven away in just 10 seconds. Others took up to 60 seconds, although one, a Land Rover Discovery, could not be started.
Tracker's Wain claims that 92% of the cars stolen with the company's location device fitted to them were taken in this way in 2019. The year before, the figure was 88%. He says keyless theft is spreading from London and the home counties to the Midlands and the north of England. The Association of British Insurers, which last year reported a steep rise in motor theft payouts, has urged car makers to tackle what it describes as this "high-tech vulnerability".
Keyless car theft is a serious and growing problem but, arguably, car owners should be even more concerned about a method of theft known as a Hanoi burglary, named after a major police investigation of the same name into car key burglary carried out some years ago. Not only were cars broken into but, in order for the burglars to get their keys, homes were, too.
The point is this: as car makers improve their keyless entry systems with features such as motion sensors that disable the key and prevent it from transmitting when left undisturbed (using this feature, the cars that What Car? tested could not be entered or driven away), criminals may be forced to break into homes for the key itself.
"We're not there yet," says Thomas. "Most car thieves who use keyless entry want a quiet life but, given the scale of the industry they're supporting, they may, if sleeper keys become more widespread, be forced to take desperate measures.
"It's why you should leave your car keys at the bottom of the stairs. Better that than a thief going any further to look for them."
Inside Thatcham crime lab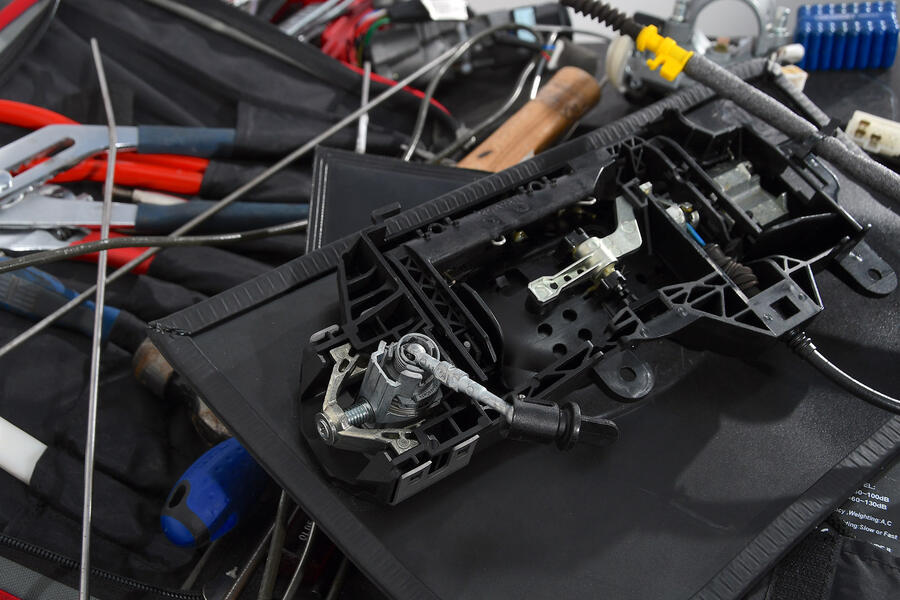 Since the 1990s, Thatcham Research, the insurer-funded vehicle and technology research organisation, has been testing vehicle security systems for the insurance industry. Last year, it launched a rating system to help car buyers. Called the Consumer Security Rating, it includes a relay attack test. Cars achieving the highest rating, called Superior, include the BMW 1 Series, Land Rover Discovery Sport, Skoda Superb and Ford Puma.
The centre's crime lab is home to some of the equipment it uses for the test, much of it sourced by police forces during raids and arrests. Assorted relay attack devices, OBD (on-board diagnostic) key programmers, GPS jammers that can disrupt GPS-based trackers (this is a growing problem) and signal jammers that criminals can use to prevent a key locking a car fill one table.
"It's a game of cat and mouse," says Steve Launchbury, lead vehicle security research engineer. "As soon as a new car enters the market, criminals steal and strip it to learn how its security works."
Richard Billyeald, chief technical officer, says that Thatcham's new security tests are meant to inform and educate not only the public but also car makers.
"Our job is to help car makers understand their vulnerabilities and, partly as a result of our new consumer rating, they're responding," he says. "Sleeper keys with motion sensor technology that deactivates the fob when left undisturbed are a simple but effective step forward.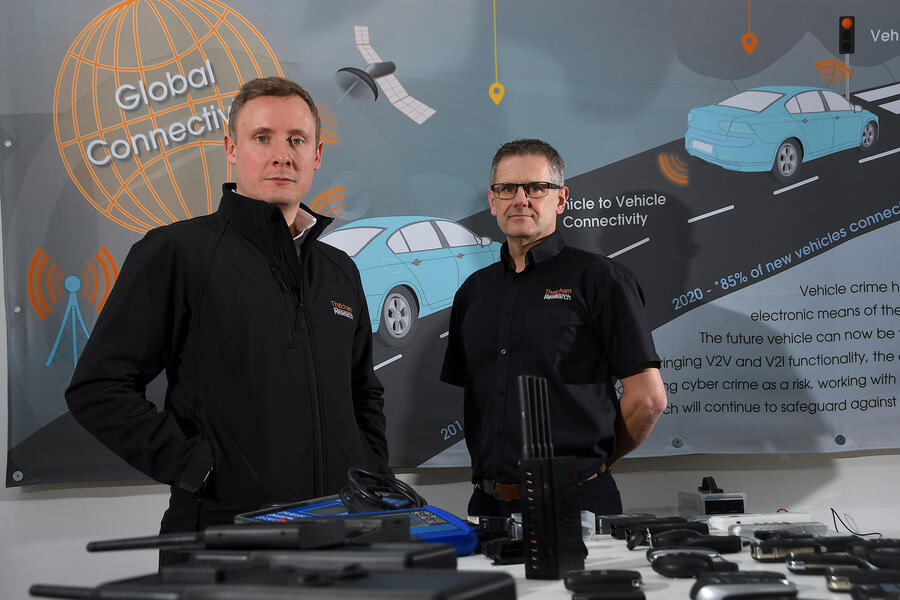 "The next big challenge will be the connected car that can be controlled from your phone. It's convenient but represents a new security risk."
How to keep your car safe from thieves
 Keep your keys away from windows and out of view but don't hide them away. Have the car windows etched with the vehicle's registration and VIN numbers.
 Remove all valuables, including portable sat-navs.
 Park in a well-lit place. If it's on your driveway, park the car facing the house so the thief will have to reverse it.
 If your car has keyless entry, check if you can disable the system and, if not, see if a software update is available so you can. Store the key in a Faraday pouch that blocks the signal but check it works.
 Manually check the car is locked in case the locking signal has been jammed.
 Fit a mechanical lock such as a gear or steering wheel lock as a deterrent.
READ MORE
Car thieves can steal some popular cars in 10 seconds, finds probe 
Britain's most popular cars are vulnerable to keyless theft 
Matt Prior: The cat's out of the backbox