VW T-Roc R vs BMW M135i: Which is hotter, crossover or hatch?
February 15, 2020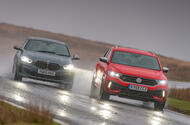 VW and Beemer's synthesised engine grunts will get a chortle from driving enthusiasts, but will probably impress owners
We line up the T-Roc next to BMW's hot 1 Series to see if Volkswagen has ended the long wait for a hatchback-equalling sporting crossover
Have a go at listing all the go-faster crossovers you could buy and get change from, say, 45 grand. And please take your time.
The choice is vast, so I'll help out. You'll already know the Cupra Ateca, but if you're prepared to spend a bit more, you can have the much larger, twin-turbo diesel Skoda Kodiaq vRS. There there's the Audi SQ2 and BMW X2 M35i; these are the ones for those who like it premium, and they'll soon be joined by the GLA 35, which will enter a Mercedes-AMG line-up that today includes the same number of crossovers as saloons. That's vaguely sacrilegious when you think about it.
Also expect a Ford Puma ST and for Nismo to breathe on the new Nissan Juke, allowing both models to compete with the Mini Countryman JCW, whose 302bhp output is about as mini as its footprint on the road.
And these are merely some of those that will ever sit on a showroom floor. Abarth once built a prototype 500X with the engine from an Alfa Romeo 4C, while Peugeot has toyed with the idea of a reverse-homologated 2008 GTi loosely inspired by its Dakar Rally-winning namesake. Industry insiders must have stories of countless similar projects, many of which may one day still result in a model that you can go out and buy.
Put simply, the scope of this class has become bewildering and will surely become more so with rising demand. Whether it should is another matter – and that's why we're currently standing in a Welsh lay-by in mid-January, enduring a deluge. We have the keys to Volkswagen's new T-Roc R, which we suspect may be the finest 'affordable' hot crossover to date. That leads us to the second reason we're doing this. If the T-Roc R does turn out to be truly, unusually good, could it be the first to make a stronger head-and-heart case for itself than a comparable hot hatch – that is, one of outstanding stock and four-wheel-drive security? Because up to now, the answer to that has always been: "Not on your life."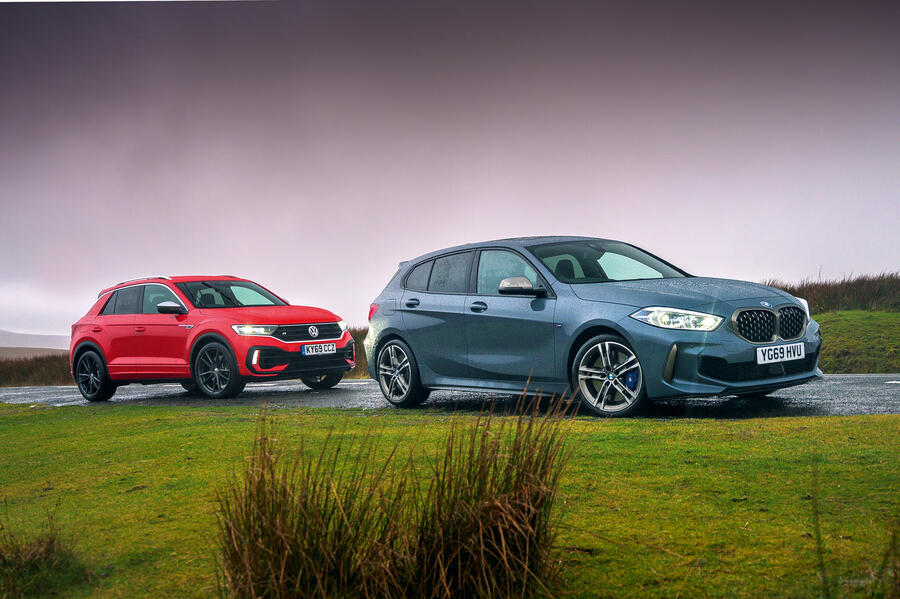 Until three weeks ago, that hot hatch would, quite inconveniently, have been the Golf R. But as you can no longer buy a new one (almost as though it made way for the T-Roc R, but actually a new Golf R is coming soon), we've settled for the next best thing: a BMW M135i xDrive, which Autocar testers would take over an AMG A35 more days than not.
At the top of their respective line-ups, the T-Roc and 1 Series are remarkably similar. Each uses an in-house-developed four-cylinder 2.0-litre turbo engine, hits 62mph in 4.8sec and features on-demand four-wheel drive that – to the eternal angst of many BMW diehards – heavily favours the front axle. They will also take up comparable space on your drive, although the crossover is taller, wider and shorter. It therefore looks conspicuously cuboid next to the low-slung BMW. Everyone in attendance feels the T-Roc R's contoured arches look the business and that this newgen 1 Series is far from BMW's finest visual achievement, with rear wheels that look a bit puny and a slightly piggish grille. But for sheer sporting pretension, there's still only one winner – and it ain't the crossover.
The T-Roc R doesn't cover itself in glory for unbridled spirit once you're inside, either. This is an issue that puts many of us off crossovers straight away. The raised seating position and high ceiling make for a breezy ambience and better back-seat ergonomics than most hot hatches could ever muster, but these characteristics don't imbue the place with much intent. You get a clearer, longer view of the road ahead but in doing so sacrifice a good portion of your relation with it. Happily, you can drop the seat so low that you'll wonder how much deeper the hip point really is in the BMW, but then the cabin feels oddly incoherent with so much metal above your eyeline.
The M135i can feel cramped and chaotic, but you wear it much more naturally and, while we're at it, perceived quality befits the £36,430 asking price, which can't be said of the £38,450 T-Roc R on account of so many elements and surfaces seemingly borrowed from the Polo. So, the traditional hot hatch is the more desirable of the pair in look and feel, both inside and out. But you might say 'twas ever thus.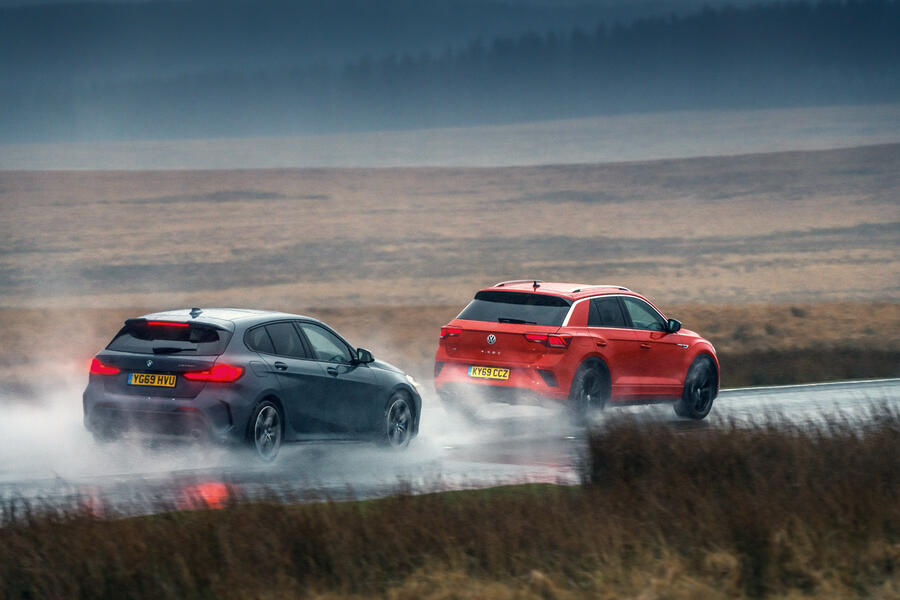 The T-Roc R finally starts to live up to the hype once you get those 19in Pretoria alloys rolling. After all, this is essentially a Golf R in an overcoat: the two use the same MQB platform, although the newcomer's wheelbase is fractionally shorter, which if anything might even improve agility. The well-known EA888 engine is carried over in the same 296bhp tune and retains an uncanny ability to slap you with meaningful torque pretty much anywhere in the rev range, even if it isn't quite as responsive as the new – deep breath – B48A20T1 twin-scroll in the BMW.
Power is meted out using an electronically operated coupling that can send up to half the available torque rearwards and Volkswagen's XDS electronic differential at the front. The latter simulates a limited-slip differential by braking a slipping wheel and forcing drive to the other side. It's also the reason why the Golf R can feel nicely rear-balanced at times. Even though only half the total torque can go to the back axle, you can be left with an overall rear bias if the XDS system cuts in to limit drive at the front – which is quite neat.
What's more, the T-Roc R is only 50kg heavier than the M135i. That's mass anybody would rather not have, of course, but it's not all that much in the context of 1575kg. Perhaps that's partly why the T-Roc R moves so much more fluidly than expected on its optional (£695) Dynamic Chassis Control suspension. In drier moments, it permits you to fly across the ground, leveraging generous wheel travel but pairing with it an exemplary degree of control for freakishly smooth progress.
This ability to simultaneously react to but also mollify the road is easily best-in-class and the best in this test. In this respect, the T-Roc R moves like an old Lancia Delta Integrale, seemingly impervious to ruts and bobbles, only with, you know, actual body control. Picture a top-drawer mogul skier and you've got the idea.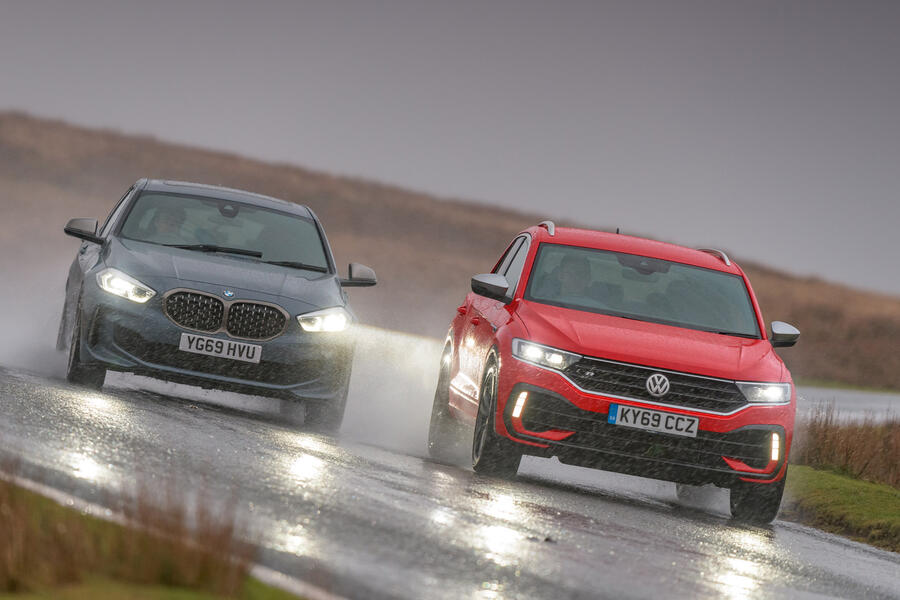 You can therefore arrive at corners very fast indeed, which is where the T-Roc R performs arguably its most impressive trick – but probably also loses this contest. The aluminium front subframe and new engine mounts have clearly had some positive effect, because the car gets its nose into corners wonderfully well. Moreover, it achieves this without making any misguided attempt to do so purely by way of psychotic off-centre steering response (the steering, incidentally, has also been revised from the Golf R, and this variable rack never feels anything less than beautifully geared). There's so little roll, even in the suspension's default setting, and then you're met with Volkswagen's trademark neutrality. Zap: into and out of corners it goes, dispassionate but highly effective and, frankly, difficult to find much fault with.
And then you climb down into the M135i. High scuttle, low roofline, wheel securely at chest height: in short, much more enveloping. The ride is authentically hot hatch taut, but it isn't brittle. And although the steering is considerably more vulnerable to deflection than that of the T-Roc R, and the quick elasticity of its action isn't so immediately easy to get along with, there's an earthy connection you get from having less metal, rubber and plastic between your anatomy and the treadblocks.
Within the space of two committed corners, you're aware of the latency in the taller car between your input and its reactions. It's harder to read the road ahead, because you don't have height on your side, but equally you're given more confidence to properly attack.
The T-Roc R is the more compliant long-distance car, especially with its dampers set to their syrupy softest. It's also easier to climb aboard and your back-row passengers will feel more relaxed and comfortable than they would in the M135i at all times. Actually, perhaps not when you approach the ultra-high limits of grip and traction, because it wouldn't be a surprise if the T-Roc R were even quicker than the M135i in terms of point-to-point pace.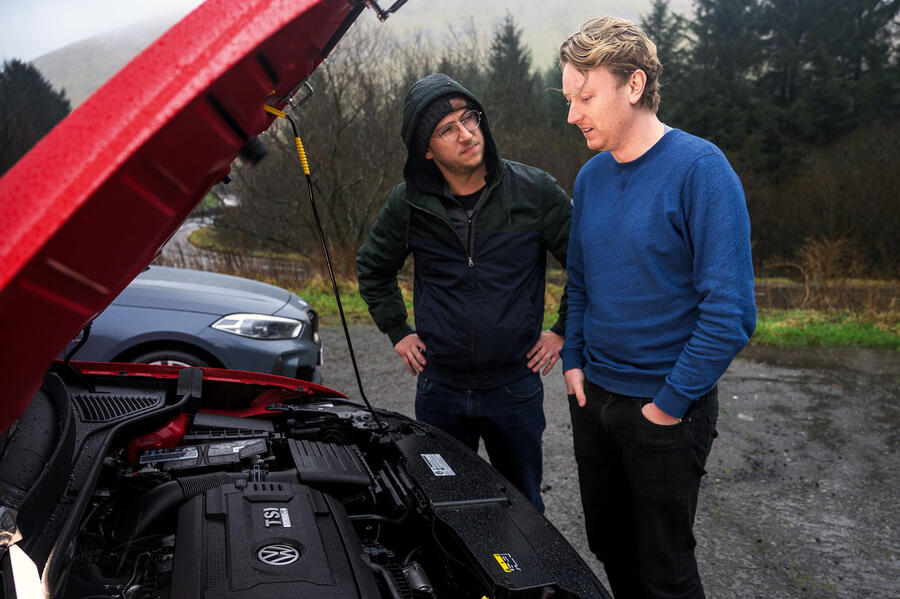 Luggage capacity isn't the strolling crossover victory you might expect, though. There are just 12 litres in it, and the hatchback's boot is deeper. Economy? Predictably, less mass and a smaller frontal area mean the crossover comes off worse, with a combined 32.5mpg versus 35.3mpg for its old-fashioned rival. There's no doubt the T-Roc R would slip into your life with barely a ripple, which makes its B-road ability all the more impressive. But let's not pretend the M135i wouldn't be supremely easy to live with also.
And what about those who do want a ripple or two from their performance car, even one with a daily brief? Well, they're better served by the BMW. Its steering has more life, its chassis has more natural agility and, although we haven't touched much on it here, its driveline is simply more finessed when you ask it difficult questions. The hot hatch formula seems so simple, yet it doesn't necessarily translate perfectly to other automotive realms. To the casual driver, there may be no discernible difference between the T-Roc R and M135i. But to the rest of us, with the crossover's extra height and weight, the magic is lost.
Hot hatch alternatives over the age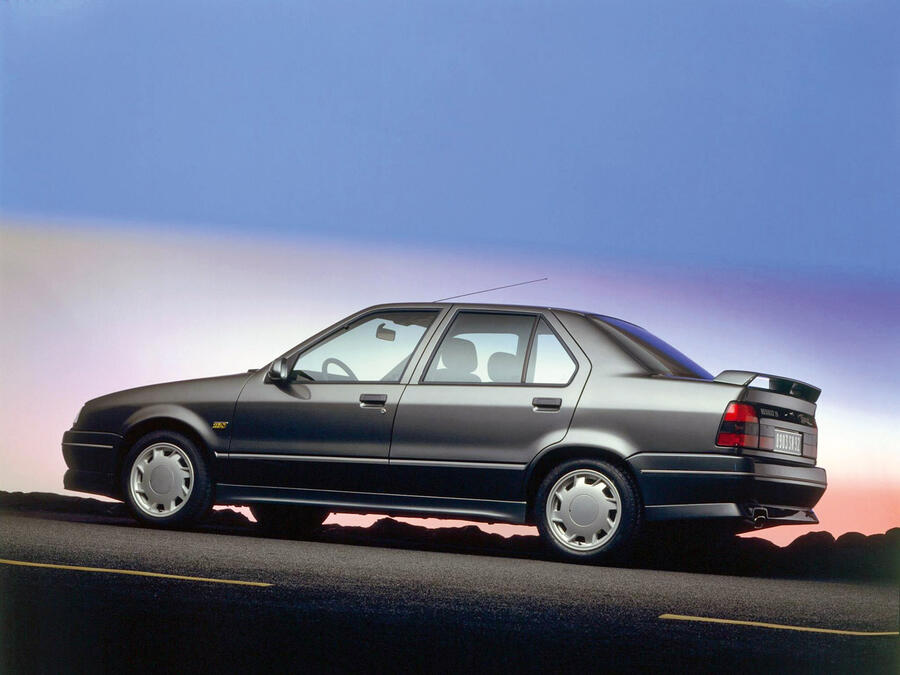 1990 – Renault 19 Chamade 16V: Based on a hot hatch that some say is even better to drive than its Golf GTI and Escort RS2000 contemporaries, this saloon packed 142bhp with only 1070kg of pleasingly thuggish executive body to haul along. It handled decently and later received a sprinkling of BTCC stardust but was never as popular as the hatchback.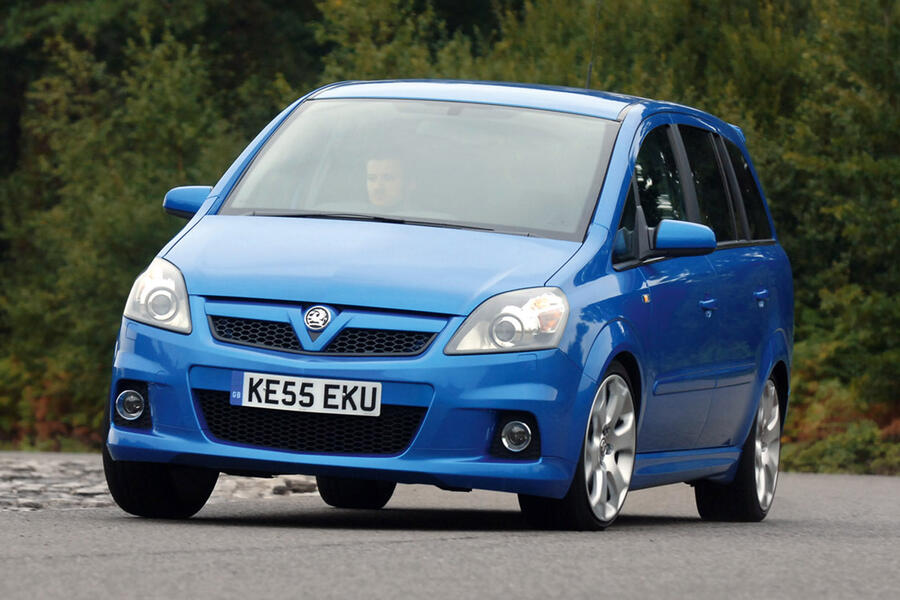 2005 – Vauxhall Zafira VXR: "Is the Zafira VXR the most pointless car since the automatic Lancer Evo?" So began our test of Vauxhall's original hot MPV, which with 237bhp and a six-speed gearbox could've been a pleasant surprise. It wasn't, with a brutal ride direct from the age of the horse-drawn carriage but little to suggest the chassis could cope with the potency on offer.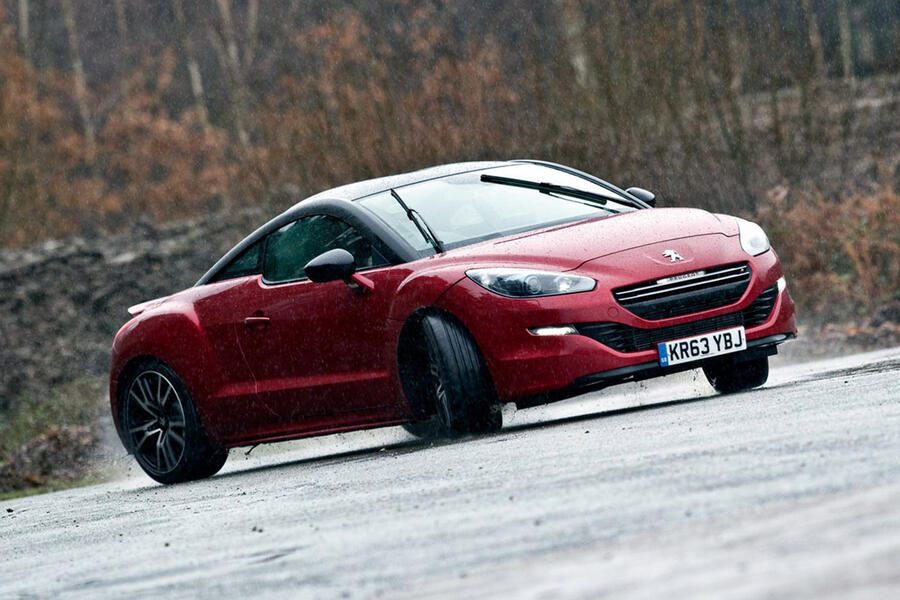 2014 – Peugeot RCZ R: Here's a hot French car that's rather more desirable than the Chamade. Making 266bhp, the RCZ R was the most powerful Peugeot there had been, and it had envy-inducing looks topped off by a double-bubble glass roof. Firm-riding but precise with an LSD-enabled playful side, it also had two small but useful back seats.
READ MORE
Volkswagen ID 4 SUV reveal postponed, likely at Detroit show 
Volkswagen developing upgraded ID R Evo version of record-breaker 
Volkswagen to launch 34 new models in 2020