Used car buying guide: BMW M3 E36 (1992-1999)
June 1, 2020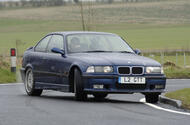 The E36-gen M3 is overshadowed by the one that came before it and the one immediately after. But that makes it a relative bargain
The BMW M3 is about to enter its sixth generation, packing more power than ever before and promising handling dynamics on a par with most supercars.
It's a good time to consider what the hot G20-generation car's arrival might mean for the legacy of older M3s. The wondrously excessive E30-gen M3 still has undeniable bedroom poster appeal, and the snarling E46-gen CSL is upheld to this day as an example of how to get a sports coupé right.
But in between the two there's the E36 M3, not often invited to showdowns between the all-time greats, nor held in particularly high regard by collectors and diehard enthusiasts if the discrepancy in prices is anything to go by. That's not to say it's an unimportant footnote in the M division's back catalogue. Let's not forget this is the first M3 both to pack a straight six and to be available in full-length four-door form.
The six-shooter in question – BMW's now-legendary 3.0-litre S50 engine – isn't exactly lethargic, either. The standard car produced an impressive 286bhp and 236lb ft, and that's before a late-1995 facelift upgraded cylinder capacity to 3.2 litres and power output to 316bhp.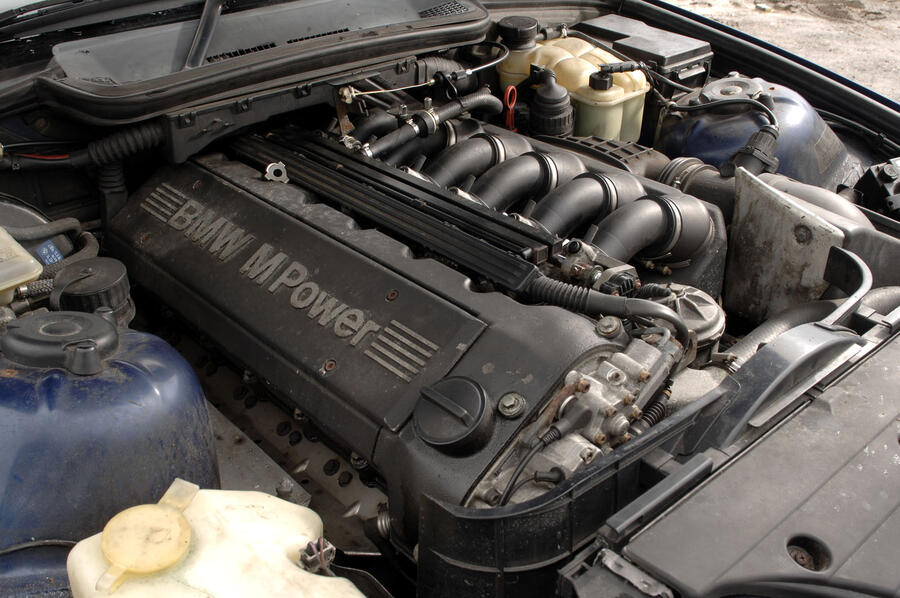 That same round of updates also introduced an automatic gearbox option (another first for the M3), swapped the by then dated orange indicator lenses for clear units and added a welcome sixth forward ratio to the manual gearbox.
The two-door coupé model, less dynamically compromised than the drop-top and more obviously performance-focused than the saloon, accounted for around two-thirds of all sales and it maintains the strongest showing in the classifieds today.
Prices for factory-spec cars vary wildly, from around £10,000 for automatic 3.0-litre convertibles to £25,000 at the top end for 3.2-litre coupés with a manual 'box. Most sellers are fastidious about their car's provenance and will commonly supply a towering pile of service history and MOT receipts, but be wary of cars with lowered suspension, aftermarket wheels and a Nürburgring sticker on the bootlid as they'll likely have lived a hard life.
The E36 M3 was made available in a wide range of vibrant bespoke colours with evocative names such as Estoril Blue, Mugello Red, Daytona Blue Metallic and – perhaps the most distinctive – Dakar Yellow, although these cars are few and far between. Take time to make sure the car you're viewing wears just one shade: the E36 M3 is a quick car, even by today's standards, and different-coloured body panels are a sure sign that it's had an accident in the past.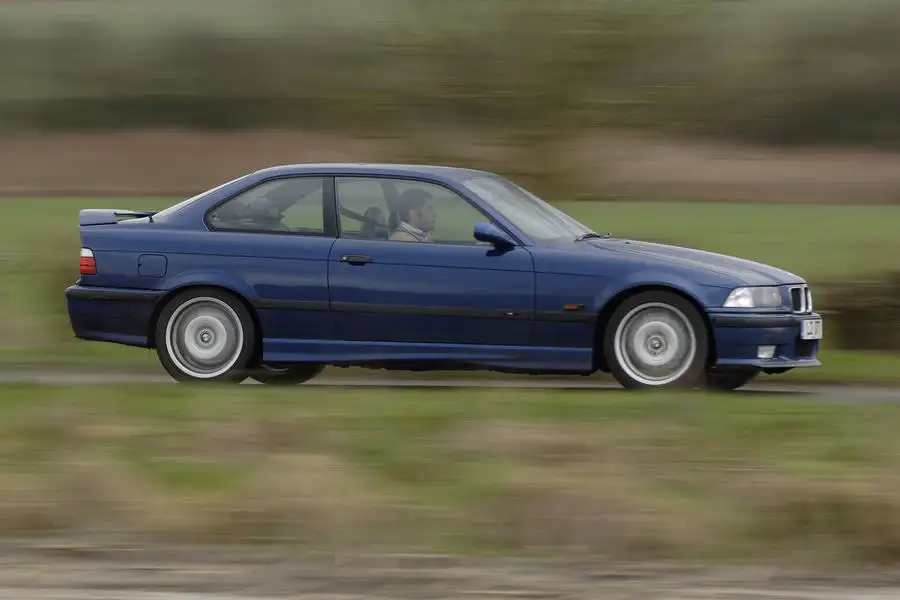 An expert's view
BARRIE ROWLES, TURNER AUTOMOTIVE: "I started with BMW in 1994, and this car was a huge deal – especially when coming out of an E30 M3 with an S14 [engine]. These cars were pretty bulletproof in the early days, especially with the S50. Only now, 25 years later, we're really seeing the car's weaknesses, but some of the problems are less serious than many 10-year-old BMWs that I see through my doors."
Buyer beware…
BODY: The E36 is known for a susceptibility to rust. Common problem areas include the front wings, boot floor, jacking points and rear suspension mounts. If there's no BMW roundel on the front windscreen, it has been replaced at some point, so check for the telltale signs of a poor seal, which will cause the bulkhead to corrode.
ENGINE: The Vanos variable valve timing system can fail. A loud rattling noise, lumpy idle and loss of low-end power are the key warning signs. The exhaust is prone to cracking and can be expensive to repair, and water pump bearings often fail but the whole unit is easily replaced.
SUSPENSION, STEERING: Rear damper mounts weaken over time, resulting in a wallowy ride through corners. Some cars have had reinforcements welded in. Check all rubber bushings have been replaced, paying particular attention to the rear trailing arm bushes, removal of which need a special tool.
BRAKES: Brake pipe corrosion is an E36 M3 owner's worst nightmare. The exhaust system and fuel tank need to be removed to install new pipes, and even independent garages can charge up to £600 for this job. Calipers can seize but refurbished OEM parts are readily available and relatively affordable.
ELECTRICS: Convertibles suffer various faults with the switches and motor for the roof mechanism, so check it works. The air-con condenser on all models is vulnerable to stone damage and can leak, resulting in an expensive repair bill. The fuel pump is also prone to failure and a genuine replacement will cost around £350.
ALSO WORTH KNOWING: There are a few attractive US-market cars for sale in the UK at time of writing, all in good condition and with low miles. But it's important to note that America's E36 M3 is commonly regarded as an inferior car. The pre-facelift US M3 offered around 50bhp less than the European model, and although the switch to a 3.2-litre motor in 1996 brought a subtle torque increase, power stayed at 240bhp – 76bhp less than the European Evolution. The US never got the six-speed manual option, either.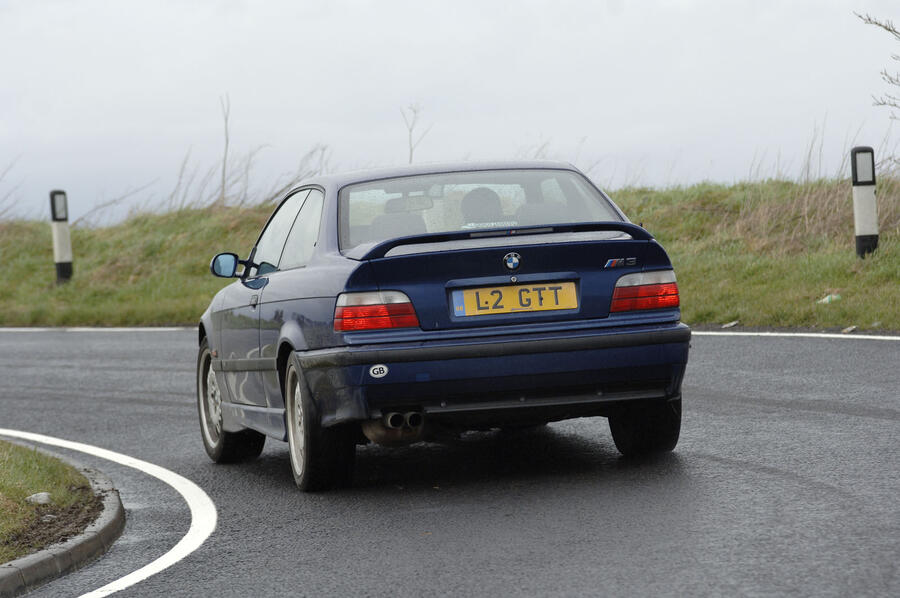 How much to spend
£8000-£11,999 – Rolling projects. Mostly pre-facelift convertibles with bodywork issues, high mileages and lowered suspension.
£12,000-£14,999 – Well-used but cared-for saloons and a few Evolution coupés.
£15,000-£19,999 – The sweet spot of the market, including various 3.2-litre coupés with manual 'boxes. Some track-day toys.
£20,000 and above – Rare special editions and collector cars.
One we found
BMW M3 EVOLUTION 3.2, 1998, 114K MILES, £16,995: Priced at the top end of the market for usable E36 M3s, this late coupé has the most desirable engine/gearbox combination and has been with its current owner for the past decade.
READ MORE
BMW details hydrogen plans including 369bhp powertrain 
New BMW M2 to spearhead hotter junior M line-up 
BMW confirms next 7 Series to be petrol, diesel, hybrid and electric