The top 10 driver's cars with donor engines
February 15, 2020
Some of the greatest driver's cars blend chassis and engine from different manufacturers. We name our highlights
Sometimes, admitting defeat and buying in an engine is the simplest – and best – approach to creating a great driver's car.
Regardless of the genre, you'll find spirited machines that owe much to their donor engine. From exclusive brands, such as Aston Martin, to quirky innovators like Citroën, and all manner of manufacturers in between, many makers have opted for a tried-and-tested approach that, when done right, delivers an enduring car for drivers.
Here are 10 of Autocar's favourite cars with donor engines.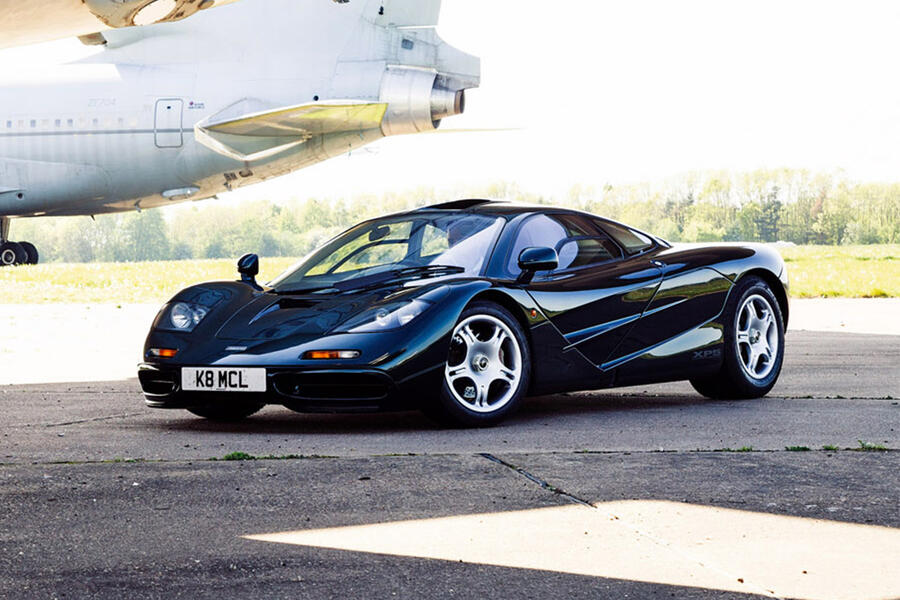 McLaren F1
Engine donor: BMW
Today's McLarens have engines of the firm's own making but, for its first road car, which would be built in tiny numbers, McLaren had to buy one in. When plans for a Honda engine fell through, Gordon Murray turned to master BMW engine designer Paul Rosche and challenged him with an exacting brief. The 6.1-litre 60deg V12 was barely any larger than a 3.5-litre Formula 1 engine, and its figures were the stuff of legend at the time. Murray's next project is his T50 supercar. This time, Cosworth has the task of creating the V12.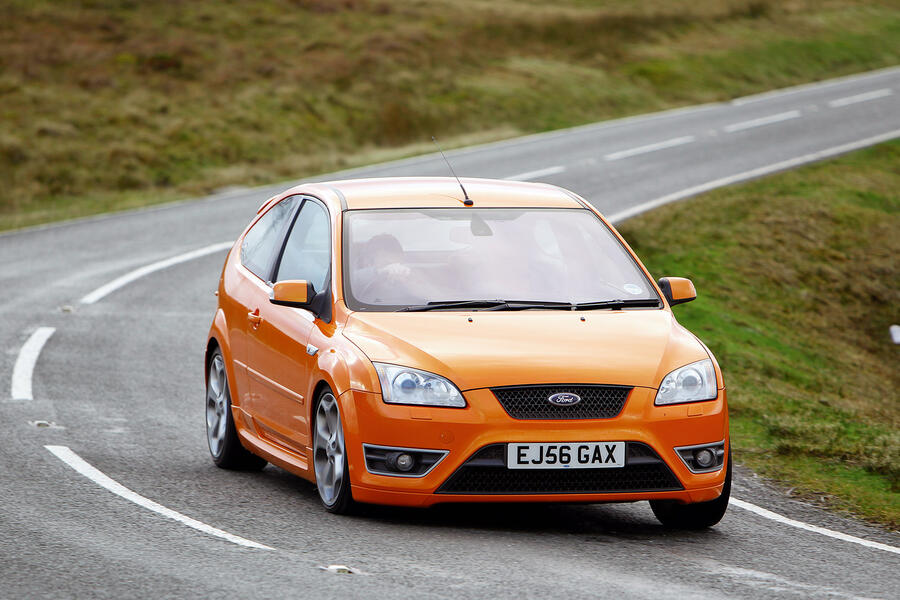 Ford Focus ST
Engine donor: Volvo
If the first generation, ST170 version of the Focus faced one common criticism, it was that its 2.0-litre four-cylinder Zetec engine was underwhelming for a car with such a capable chassis. Ford avoided making the same mistake with its next ST by calling in a favour from then stablemate Volvo and setting to work on its 2.3-litre turbocharged five-pot.
The result was a 2.5-litre engine with variable valve timing for both cams, a lighter flywheel, revised engine mapping and just over 220bhp. It delivered the performance hot hatch drivers had come to expect, but just as significantly it introduced one of the most charismatic engine notes in the class.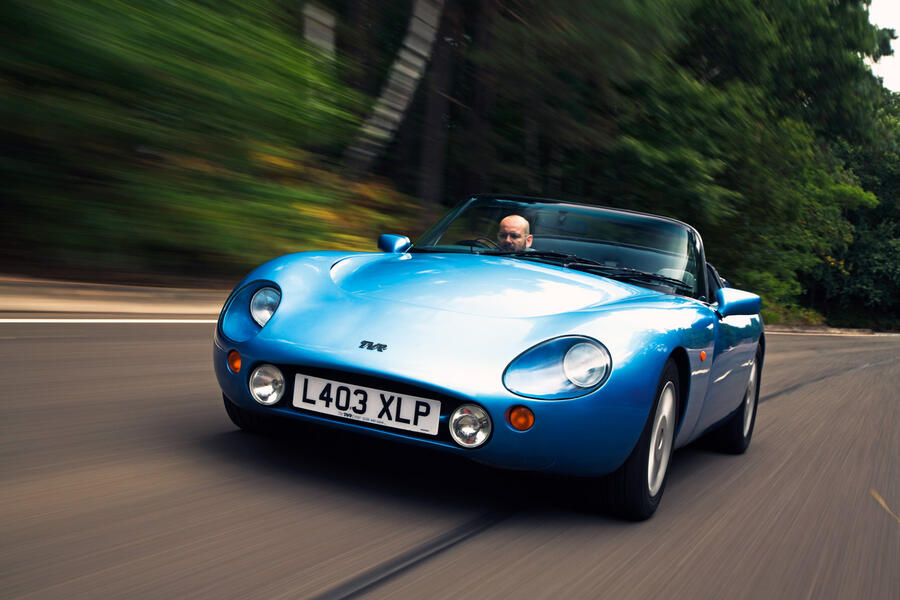 TVR Griffith 500
Engine donor: Rover
Although you can trace the Rover V8 engine's roots to the Buick 215 motor, it would be churlish not to credit Rover for giving TVR's cars the character that would go on to stand them apart from the more sensible BMWs and Porsches.
Perhaps the car most fondly associated with that engine is the Griffith 500, the most potent of the TVR range. The British manufacturer took the engine to 5.0 litres and around 340bhp – and the soapstone-shaped Griffith's bellow could drown out Brian Blessed.
Lamborghini Gallardo LP560-4
Engine donor: Audi
The shrill yelp of Lamborghini's V10 had been standing the hairs up on the back of drivers' necks since the Gallardo was launched in 2003. But it was, in Lamborghini's own words, at its limit in terms of development. For 2008, a bigger-capacity 5.2-litre V10 made its debut, and it was largely developed by Audi. A new directinjection system helped lift power to 560bhp, and no one was heard to complain about the association with the German parent company.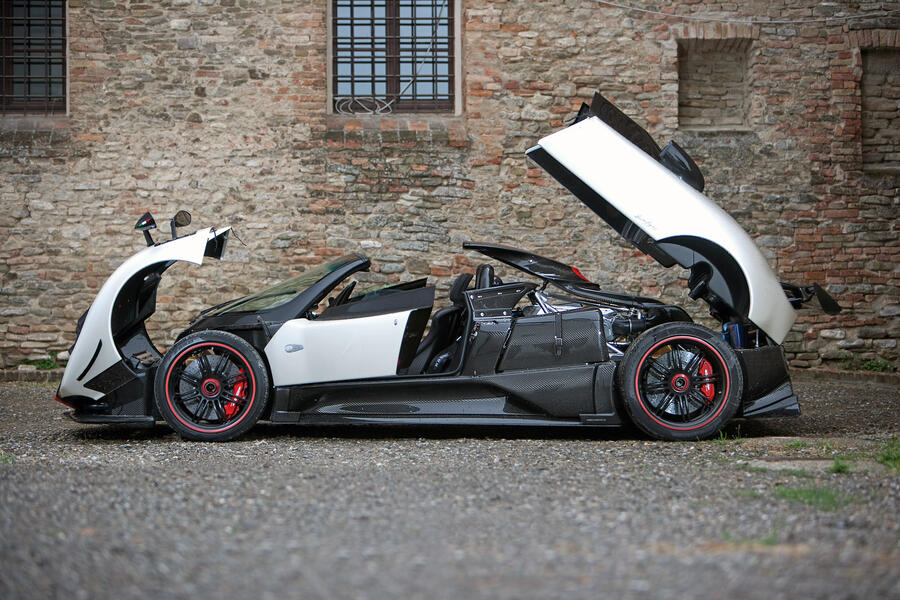 Pagani Zonda
Engine donor: Mercedes-AMG
When your competitors are Ferrari and Lamborghini, you need something special in the engine department to convince prospective customers to add your supercar to their garage. Which is why Horacio Pagani turned to Mercedes-AMG and its naturally aspirated M120 V12 to power his Zonda.
Over time it would grow from 6.0 litres to 7.0 then 7.3, and would provide no less a spectacular sense of occasion than the best that the Italians could offer.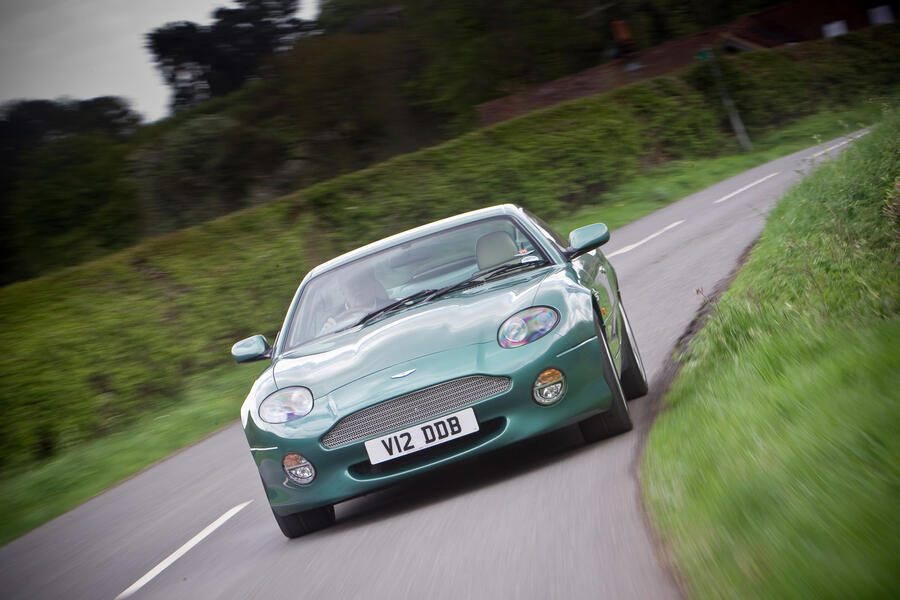 Aston Martin DB7 Vantage
Engine donor: Ford
These days, 'Aston Martin' and 'V12' are as inextricably linked as fruit and nut, but in the mid-1990s the sports car maker had yet to stretch beyond six- and eight-cylinder lumps and build a V12-powered car. That would all change with 1999's DB7 Vantage.
The basis of the new V12 engine was the Ford Duratec V6. Ford owned Aston Martin through its Premier Automotive Group, and Walter Hayes, Aston's CEO, was a former Ford man who was able to smooth the way for the project to get the nod. It was built at Ford's Cologne factory, in the west of Germany, and went on to power the Vanquish, DB9, DBS and One-77 – but, unsurprisingly, it didn't feature in the Cygnet.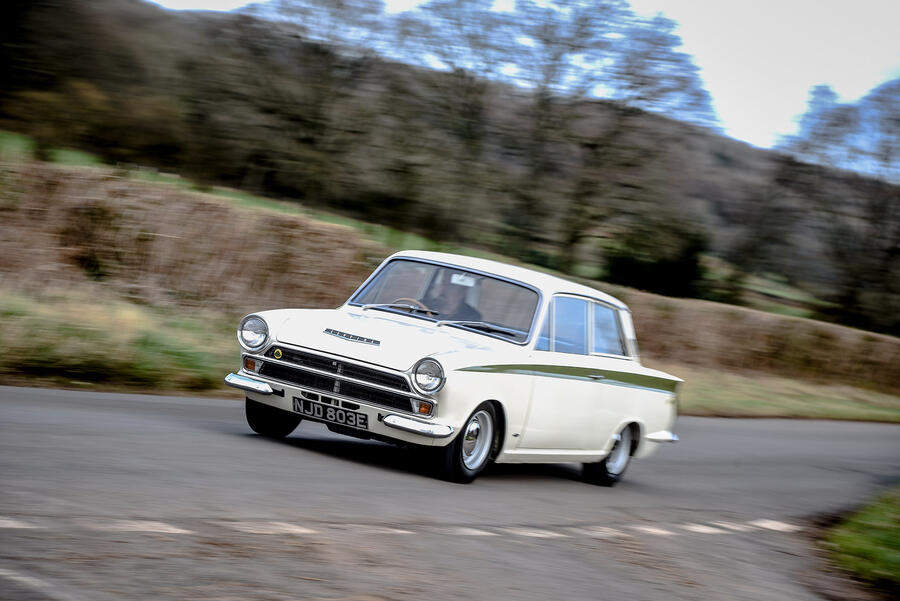 Ford Cortina Lotus
Engine donor: Lotus
When Colin Chapman wanted an engine of Lotus's own making to replace the Coventry Climax units, and Ford's Walter Hayes needed a hot engine to put his company on the map in motorsport, the happy result gave us the Ford Cortina Lotus, or Lotus Cortina.
The 1.5-litre, four-cylinder, twin-overhead cam unit was married to the close-ratio gearbox from an Elan, while extensive changes to the suspension, brakes and bodywork resulted in the complete package earning critical acclaim.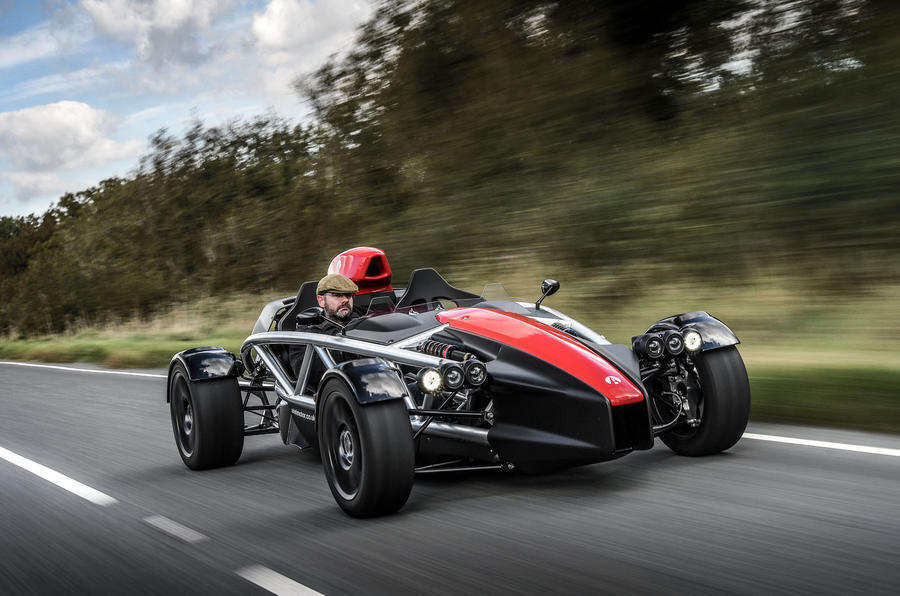 Ariel Atom
Engine donor: Honda
From the moment the world first clapped eyes on the unusual exoskeletal chassis of the Atom, there was no doubt that the car would be exciting to drive.
Niki Smart's handiwork was brought to fruition by former Aston Martin stylist and design lecturer Simon Saunders. And wisely, he not only chose to source a donor engine but ensured it would be a reliable one. Honda's four-cylinder VTEC engines, over time both naturally aspirated and turbocharged, were the answer. Today, the latest K20C turbocharged unit from the Civic Type R does a sterling job of scaring whichever souls are brave enough to climb aboard an Atom.
Citroën SM
Engine donor: Maserati
The motor industry choked on its cornflakes the morning Citroën's purchase of a controlling interest in Maserati was reported in 1968. Yes, car companies were driving forward with expansionist strategies, but this one was lost on most onlookers.
Happily, however, it resulted in the wonderfully out-there SM. It sported an advanced, lightweight, all-aluminium 2.7-litre V6, said to have been developed from Maserati's V8 in only three weeks. Whether this had any bearing on the car's dependability remains to be seen.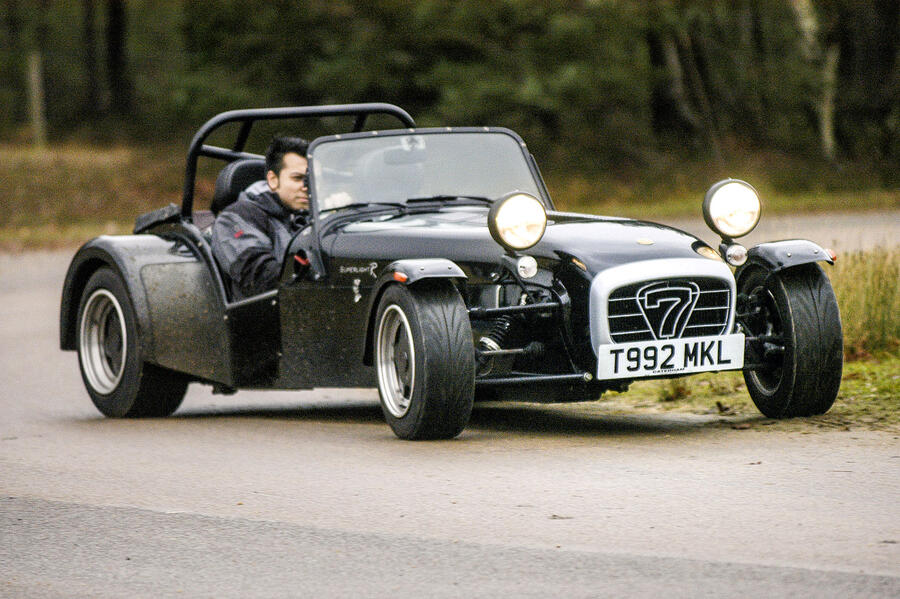 Caterham Seven
Engine donor: Rover
Where to start with the Caterham Seven? This is a sports car that has been through nearly as many donor engines as it has sets of tyres at drift schools and driving demo days. It started off life with the Lotus-Ford Twincam then switched to the Ford Kent Crossflow before trying motors from Vauxhall, Rover and, more recently, Ford again.
Seven stalwarts will argue over which was best until the cows come home or the roof is put back up (whichever comes first), but it was the 16-valve four-cylinder Rover K-Series motor that really put the Seven on the map by introducing it to a wider audience, especially in Superlight spec.
James Mills
READ MORE
Ariel Atom 4: A wet road trip in the lightweight two-seater 
Britain's Best Driver's Car 2019: And the winner is… 
Behind the wheel of the ultimate Caterham track car