Opinion: It's the right time for a design shake-up at Jaguar
May 31, 2020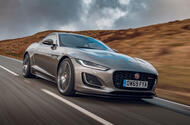 Design director Julian Thomson could give the British brand an all-new visual identity in just a few years
"It's true some people in my position get misty-eyed and protective, and reluctant to move things forward. But we're not going to be like that." The welcome words of Jaguar design director Julian Thomson, almost a year into the job after succeeding Ian Callum.
Callum's impressive era moved Jaguar's design into the future, with critically acclaimed designs including the original XF, the XJ, and, most radical of all, the I-Pace. Seemingly unbreakable rules were broken by Callum, and the results were fantastic.
But however good Callum's cars are to look at – and to drive – the commercial success has never followed over any sustained period of time. Jaguar has remained a relative minnow on the world stage; Tesla sold more than double the amount of cars Jaguar did last year. However good Callum's work, Jaguar still hasn't shaken it's 'old man' image. 
Now, in his interview with Steve Cropley, Thomson promises a new design reinvention at Jaguar. There will be cars created with female buyers and more youthful appeal ("I guess everyone wants young cars, even if they're 60," says Thomson), and plenty more rules will be broken, not least with Thomson open to the prospect of creating smaller Jaguars.
Due to the three-year or so lead times of new cars, it'll be a couple of years yet before we see a beginning-to-end design from Thomson. It'll be some day when it comes. 
READ MORE
Jaguar Land Rover to invest £1bn in three new UK-built EVs
2020 Jaguar XJ: latest images reveal electric luxury car's look
2020 Jaguar F-Type revealed with revised looks, no V6 engine