Opinion: Crisis will bring opportunity for road testing
April 1, 2020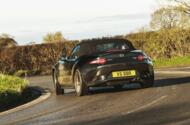 Travel restrictions have wreaked havoc on Autocar's diary, but there's a silver lining
At Autocar the diary moves fast. Every five working days we put out more than 80 pages of news and reviews, buying guides, our long-termer updates and, of course, features. Pure editorial, so that's without counting ad pages.
And when it comes to features, much of it is necessarily long-lead stuff – stuff that, frankly, we're pretty glad to have right now. A white-knuckle dispatch from the North Coast 500, an interview with Stefano Domenicali, an exposé on Toyota K-Series head-gasket failure: all can be researched, written and laid out on the page well in advance of the Friday evening the issue in question goes to the printers. 
But the news and first drives sections work on a tighter, more fiddly schedule. And for the latter especially there are big spreadsheets crammed with details. During an average month, the road-test desks at Autocar and our sister mag What Car? will drive 85 new cars in the UK and attend around 20 international launches for big-hitters like a new Clio or the latest Porsche GT3. For every one of them, the right person needs to be in the right place, at the time, with a deadline to hit and, much of the time, a photographer in tow. 
You don't need me to tell you that for March and April this year, and for the foreseeable future, those spreadsheets are looking somewhat barren, as manufacturers have cancelled international launches and the people who travel the length and breadth of the country to deliver our test cars on home soil are stood down. For them, delivering the car isn't the problem. Needing to then get two trains, followed by a bus or the Tube, in order to then get home is the issue. Nobody should ask them to do that, and nobody at this magazine is. 
As you'll discover in due course, Autocar is in a good position to cope with this immediate lack of test cars, though some lateral thinking has been required. Ordinarily, there's a lull in the diary during January, as the industry reboots after Christmas, and then again in July, when so many people are on holiday, but what's happening now is completely unprecedented. Big stories have been postponed or cancelled. Our first taste of the Ferrari SF90 Stradale, for example, has been spiked, and the full road test of the F8 Tributo at MIRA lost for now alongside the likes of the new Seat Leon and Skoda Octavia. There are countless others.
And now, the point I want to make. Sorry for the preamble. This calendar bloodbath isn't all bad news. Why? Because Britain's domestic tuning scene is world-class. The only thing is that, because we've only got so many pages to print on, and those pages are usually filled with mass-market models that people simply need to know about, rarely – and wrongly, though it's manpower we lack, rather than the will – do these smaller companies get the attention they deserve. 
But even as the foreign launches started falling like dominoes, this was changing. We visited BBR GTI earlier this year to drive its latest – and utterly brilliant – take on the MX-5, and more recently Autocar has been to Ford-honing stalwart Mountune in Essex. These two outfits achieve something that's not at all easy: appreciably improving already excellent production-spec cars that have already been lavished with massive R&D spend, and for not a lot of your hard-earned. And better still, they're not alone.
As this pandemic recedes and our personal freedoms return, there will be an inevitable delay before the launch diary for big manufacturer events revs back up. It's during that time you can expect to read more about Britain's 'tuners', though that term undersells what many of them do. You'll read about Litchfield, experts in improving Nissan GT-Rs and even the Porsche 911, and Birds BMW, which is stockpiling the old rear-driven M140i and making them even better driver's cars. We'll get back in touch with Miltek, Revo, CSR Porsche and Autofarm. And, of course, Bowler. And if DMS is offering a 6000bhp upgrade for the McLaren 720S, we'll drive that too. 
In this country we have an embarrassment of engineering riches hidden beneath the likes of Lotus, Aston Martin and Caterham. In 2020, expect to read a lot more about it.
READ MORE
90 Years Special: The history of Autocar's road test procedures
Autocar's exclusive McLaren F1 road test: 25 years on
The 100 best British cars ever built