Accelerating the Modern World: A tour of the V&A's car exhibition
January 12, 2020

The exhibition runs until 19 April. Entry costs £18, under-11s free
A fascinating exhibition at London's Victoria and Albert Museum explores 150 years of the car and its influence on society. We have a look round
If you're expecting the Victoria and Albert Museum's latest headline exhibition, Cars: Accelerating the Modern World, to take an affectionate stroll through the 150-year history and progress of a much-loved four-wheeled transport device, you'd be dead wrong. It's far better than that. It's much closer to the truth that this superb display – detailed enough to provide two to four hours' absorption for car lovers and neutrals alike – should be viewed as 'The car and its influence, without prejudice'.
Which, when you think about it, places it in a space nobody in recent memory has attempted to fill. We live nowadays either with stentorian condemnations of cars that ignore their role in enabling progress on many other fronts (and probably helped their critics get to work that morning) or uncritical descriptions of enticing products, designed mostly to keep the wheels of commerce turning. Balance, away from Autocar, at least, is distinctly lacking.
Co-curators Brendan Cormier and Lizzie Bisley define their exhibition's core purpose perfectly in the second sentence of an accompanying 220-page book you'd be crazy not to buy for £30 once you've seen the exhibition. The car, they say, has "stood for the possibility of a new way of living, while also being an active agent in shaping the systems, structures and images that have defined the modern world". And the exhibition goes on to prove it.
At Autocar, we already knew this was going to be an important V&A event, having previously attended a preview by Cormier, appropriately staged in the car-conscious Michelin Building just a few hundred yards from the great museum, in London's South Kensington. Then, a day or two before the exhibition proper was to be declared open, we met Cormier again for an exclusive tour, during which he expanded on its thought-provoking aims and fascinating contents. "We have only 15 cars on display," he explained, managing my expectations as we descended the imposing staircase into V&A's basement gallery, "but we think they're the right ones…"
The exhibition is arranged into three sections – Going Fast, Making More and Shaping Space – each of which encompasses appropriate smaller subjects that you encounter as you walk. The first object you see is one of General Motors' enormously influential 1950s Firebird concept cars – a kind of jet fighter on wheels – that brought the dreams of science fiction to the simple optimistic post-WW2 era, especially in the US. Cormier calls this a kind of palate cleanser for people arriving at the exhibition, as well as a graphic illustration of how society began using cars to think about a post-war world.
Very soon after the car was invented, the exhibition suggests, it began to affect many other modes of modern life. Bertha Benz, driving her husband's first production car (an 1894 Benz is displayed), showed that cars could take journeys. That required roads and refuelling facilities. And maps and fuel supplies and suitable clothing. Soon, authors, dreamers and city planners began to see how cars could change city design. John Douglas-Scott-Montagu, the current Lord Montagu's grandfather, was a great car proponent who championed the idea of car-only motorways 40 years before the first one opened. Illustrations of his ideas are shown.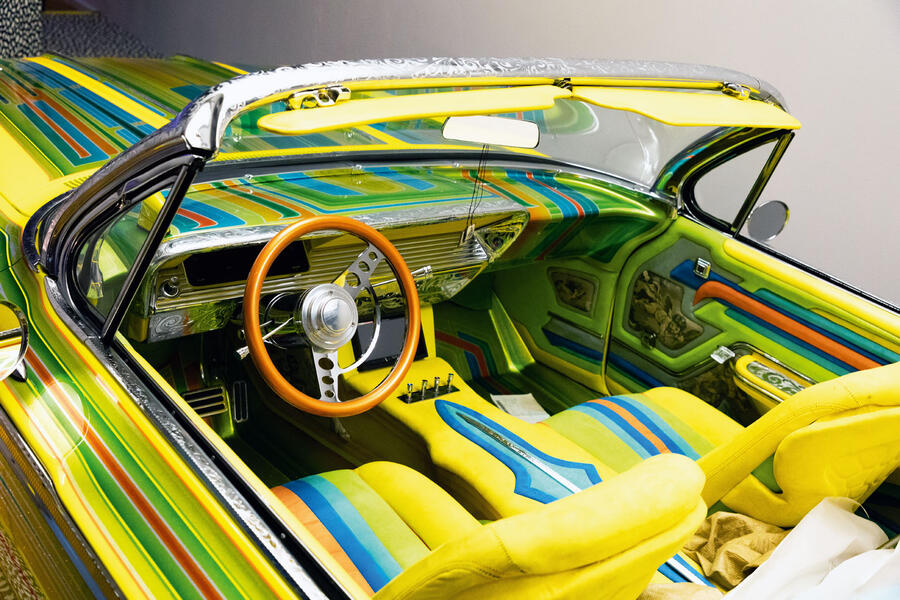 Racing propelled car development at places like Brooklands (opened 1907), which became both a society spot for modern-minded people and a place where women raced men – "a break with societal norms", as Cormier puts it. Such things influenced wider society.
The pursuit of speed also brought the rapid rise of streamlining: the V&A shows illustrations of Belgian Camille Jenatzy in his pioneering bullet-shaped La Jamais Contente ('The never satisfied') that did 60mph in 1899, plus among other vehicles a full-sized super-streamlined Czech-designed Tatra of the late 1930s. Streamlined shapes pervaded many other design forms: Cormier points to an especially fine-looking 1944 meat slicer whose shape clearly embodies the design values of racing cars and high-performance aircraft.
At first, it was inadequately recognised that speed brought danger. From detailing the world's first road fatality, the exhibition takes you through the era of post-war excess and into the ebullient American muscle car era (typified by a full-sized Mustang on display). From there, we pitch headlong into the huge influence of young safety campaigner Ralph Nader, whose work to highlight accident-prone designs led to the demise of what he cogently argued were unbalanced, inadequately suspended rear-engined cars like the Volkswagen Beetle and Chevrolet Corvair.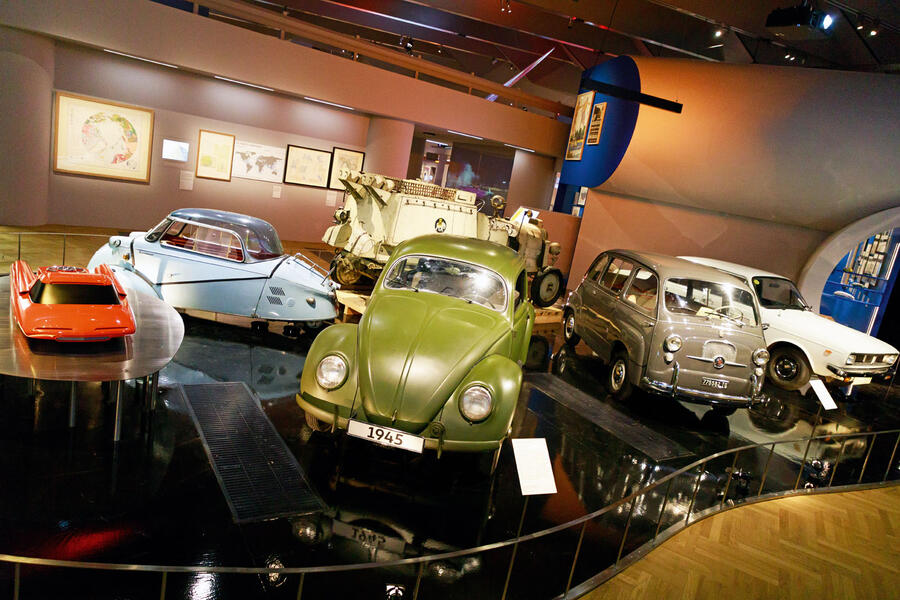 "For over half a century the automobile has brought death, injury and the most inestimable sorrow and deprivation to millions of people," he wrote in his 1965 book Unsafe at Any Speed. That initiated an urgent, accelerating era of safety in design that continues to this day and has brought huge benefits. In 1967, UK road casualties amounted to 7985. By 2016, that had fallen to a (still unacceptable) 1792 and most of today's car makers talk of a zero-accidents ambition.
The exhibition's Making More section covers not just the exponential early-1900s build-up in car production but also oil production and mining for materials. It begins, perhaps inevitably, with a real, live Ford Model T in black. But this one has a side of pork suspended over it in recognition of the fact that Ford's principle of the moving production line was borrowed from an abattoir.
The 1909 Model T was Ford's third or fourth attempt to make a profitable car, but its success was extraordinary. At times during its 18-year life, more than two million cars were manufactured in a single year, a figure that outshines most modern operations. At one stage, the car held 45.6% of the US market and the story was similar in the UK, where production began at Trafford Park, Manchester, in 1911.
The rise of car production and how the same principles came to be applied to other industrial processes – furniture and clothing manufacture and even the advent of prefabricated buildings – are lovingly discussed in the exhibition, as are the ways mass manufacture led to labour organisation and some celebrated union disputes. We also learn how fashion informed car design with new techniques, colours and textures, and how model variety (distinctly lacking with the Model T) widened and deepened the worldwide demand for cars.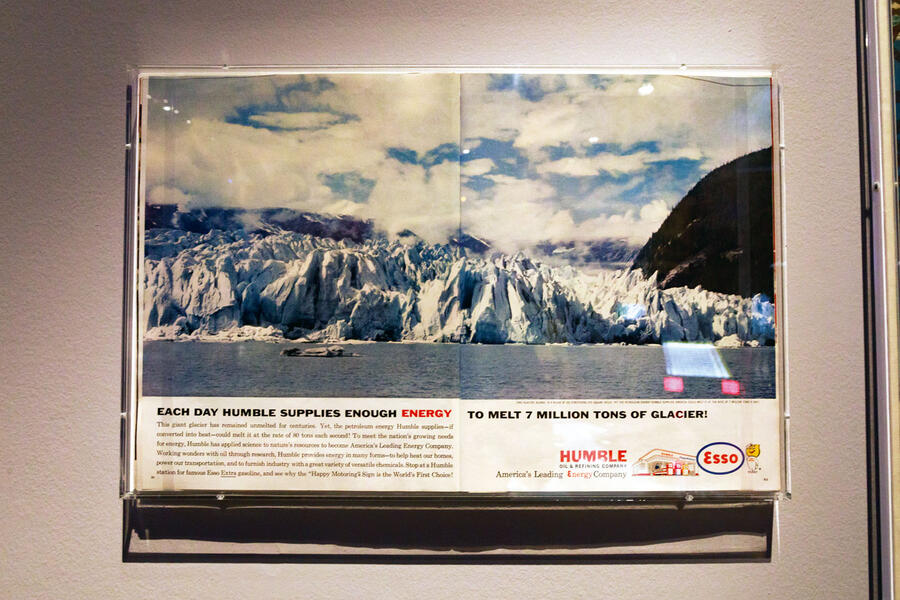 In the third, Shaping Space section, one of the biggest fascinations is an emphasis placed on the rise of oil production: there's even a running display showing, in real time, how many barrels of crude oil remain to be exploited. It's a big number, but falling. Another extraordinary exhibit – perhaps the most remarked upon of all – is an Esso-backed poster from 1962 cheerfully boasting that the company's refining arm, Humble Oil, "supplies enough energy to melt seven million tons of glacier" every day. It may be the museum's most graphic indicator that times have changed…
The exhibition flows on, revealing how cars inspired wonders of art like the Diego Rivera murals in central Detroit and wonders of architecture like Fiat's Lingotto factory, the one seen in The Italian Job with a banked test track on its roof for cars built down below. It is a fascinating and challenging display whose sheer depth of information will surprise everyone, whether they think they know about cars or not.
Most gratifying of all is the fact that there is nothing for the car lover to disagree with. Both the automobile's achievements and the unintended consequences that surround its creation and proliferation are treated with deep knowledge and sensitivity. I find it remarkable that Cormier "knew nothing about cars two years ago". Even the fact that the exhibition's 'supporting partner' is Bosch – a high-achieving company that greatly benefited from explosive car production but whose pioneering roles in creating ABS and ESP have saved many lives – seems entirely appropriate. Don't miss it.
READ MORE
The history of radio-controlled car legend Tamiya
Journey: the picture history of the driverless car
From ink to I-Pace: How Jaguar designs an electric car