300bhp Mercedes-AMG A35 tests hard on the Nurburgring – on video
June 27, 2018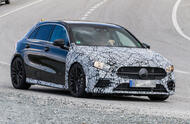 Mercedes-AMG will launch a new entry-level model called the A35 in early 2019…
Entry-level AMG hot hatch will use a reworked version of the new A-Class's 2.0-litre powerplant; it'll arrive in early 2019, ahead of the new A45
Mercedes-AMG will launch a new entry-level model called the A35 in early 2019. The hot hatch will do battle with the Volkswagen Golf R with a newly developed 300bhp 2.0-litre engine.
Pictured during development testing in exclusive photos and now spotted testing flat out at the Nürburgring, the five-door model will undercut the next-generation A45 to become AMG's cheapest model, with an anticipated starting price of around £35,000.
The A35 will be powered by an extensively reworked version of the A45's turbocharged four-cylinder M260 engine. This itself is an evolution of the freshly launched new A-Class's M270 unit, which features a new crankcase and cylinder head. Although the cylinder bore and stroke will remain unchanged in the A35's unit, it will have different pistons and bespoke software in order to give it performance close to that of the 306bhp Golf R.
The new A45's 0-62mph time is predicted to slip beneath the 4.0sec mark, suggesting the A35 will be set for a 4.5sec sprint time. That would rank the four-wheel-drive model directly alongside the Golf R, which is as quick off the line as some proper sports cars, such as the Porsche 718 Cayman S.
Spotted test cars suggest the visual differences between the A35 and A45 will be small, although a clear signal as to what performance is on offer will come from the tailpipes. The A45 will get a quad exit set-up, while the A35 will have a twin-pipe system. This mimics a system of tailpipe variety employed by AMG's C43 and recently launched CLS 53 and E53 models.
It's likely that the A35 will be offered with adjustable damping, like its more hardcore sibling, but AMG could choose to provide it with slightly less aggressive rebound rates to give the A45 an advantage in the corners as well as the straights.
Such a variation in character and ability would be necessary to ensure the A35 carves out its own space within the tightly congested performance hatch segment. The A35 will rival the Golf R, Audi S3 and, as scooped by Autocar, future BMW M130iX M Performance, leaving the A250 AMG, the most potent model in the regular A-Class range, to face the Volkswagen Golf GTI. The A45 will remain top of the pile and continue to do battle with the Audi RS3.
Although Mercedes is yet to officially announce the A35, AMG boss Tobias Moers confirmed to Autocar late last year that it would "arrive ahead of the A45″. Autocar understands the Paris motor show in October is a likely venue for the A35's unveiling, suggesting that order books will open at the start of 2019. The A45 is predicted to arrive in the middle of 2019.
More content:
F1 2018: Hamilton dominates in Spain
Porsche accused of manipulating Cayman R UK emissions test